FEATURES:

This unique, feature packed Quran DVD Set offers the ultimate experience for anyone wishing to learn, recite, understand and ponder over the beautiful message revealed by the Almighty Allah (swt) through His chosen Prophet (pbuh).
The viewer is benefited with a spiritually enhancing experience as the dynamic display is accompanied with the heart touching voice of Sa'ad Al-Ghamdi.
A priceless set which will bring out enormous benefits for an entire lifetime. Should not be missed by any lover of the Magnificent Quran!
Over 24 hrs of full colour video (2.5gb)
Interactive menu allowing for easy navigation
Recitation by Sa'ad Al-Ghamdi
Presentations of various Miracles of the Quran
Recitation of selected verses by Abdul Baset
The Arabic alphabet
Excellent tool for improving recitation skills
Ideal assistant for memorization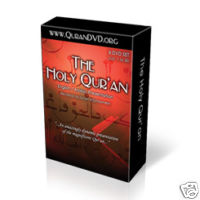 Price: US$45 or Rs.1,600/- only with courier charges.

Place your order now also you can avail cash on delivery facility any where in India for no extra charge.
Call +91- 93911 62671 Hyderabad.
Delivery any where in India - Mumbai, Delhi, Madras (Chennai), Kolkata (Calcutta), Hyderabad, Secunderabad, Bangalore, Lucknow, Alahabad, Indore, Jaipur, Jodhpur, Ujjain, Gujarat, Pune, Nasik,Rajkot ...............
International Orders accepted for an extra charge depending upon the location.
Send your payments by DD/Cheque infavour of "eBusiness Indya or Direct ICICI Bank Deposit. Account name:eBusiness Indya Account Number:024205005652
To eBusiness Indya,
16-2-138/A/1, Beside Akbari Mosque, Akbar Bagh X Roads,
Malakpet, Hyderabad-500036
AP India Ph:+91-9391162671, 40-32962671
Email: eBusinessIndya@gmail.com
website:www.eBusiness-Indya.com

(After the payment confirmation, we will dispatch the Quran DVDs by courier)
We accept Credit Cards. Credit Card Payment through www.Moneybookers.com infavour of ebusinessindya@gmail.com


Western Union / MoneyGram / UAE Exchange infavour of AMJAD SHAREEF City: Hyderabad India or Bank Transfer/Direct Deposit.